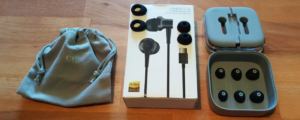 Airlines don't allow Bluetooth headsets (the air regulators don't. Some mention this in a passive-aggressive kind of way but do nothing. Others are less passive and more aggressive.
Modern phones are getting rid of the 3.5mm jack. Sure there are usb-c dongles, and the dongles are tiny so not really an issue. but… this leads to the second issue, which is that your active-noise-cancelling headsets typically have a battery and a charge cable. So why not combine all this in a relatively cheap package?
Enter the Xiaomi USB-C ANC headphones that arrived last night. Its an in-ear headphone that has active noise cancelling and is directly driven by USB-C, no dongle. It also doesn't have the 'wart' on the string my Sony in-ear noise canceller's did. And it uses power from your phone, so no separate charge system needed.
Also, its kind of neat, since they have a DAC in the cable, you can plug them into your desktop PC or laptop, and they work just as well. No driver, just plug and go (which is good because the English instructions are missing). Good by analog!
Are they as good as Bose 35C? No. Do they cost less than 5%? Yes. Are they light, portable, good enough? Yes they are. When you flick the little switch to enable the DSP-based active noise cancel, the fan noise etc vanishes.
I got mine on aliexpress for ~$25, but amazon has them for not much more.