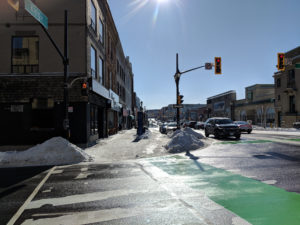 Earlier we talked about "the spirit of optimism", a bike counter on King Street Waterloo that goes to 500K/yr for cyclists.
Well it was another crisp cold day here in sunny Waterloo. A balmy -26C this morning, warming up to a brisk -22C at lunch time in the sunshine.
And, as you can see from the counter, 2 folks gave it a go down the snowy paths.
The city is doing a great job of clearing the snow, so come on out 🙂