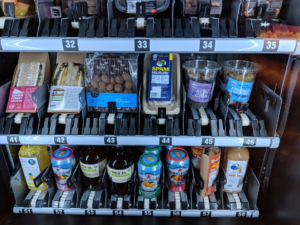 So I'm here at Google Next this week. Cloud cloud cloud, security security security, that sort of thing.
Question 1. Would you buy this 'spam musibi' from this vending machine? Or you'd rather have that tasty-looking turkey? Or that delicious looking hot dog? Keep in mind there is no microwave around, so that cold vended hotdog might be a bit slimy. Choose wisely. Feel free to click to zoom in.

Loading …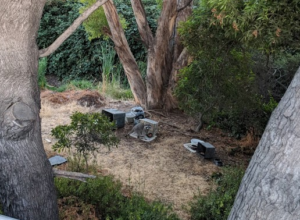 Question 2. Who on earth would set out ~10 feeding trays for raccoons on at an overpass of the 101 @ millbrae? I mean, wtf? As I trudged over the highway from the BART station to the hotel, I was surprised, they were surprised. 1 stuck around for a photo, the others bugged out. Um, ???
Question 3 (photo didn't turn out). So you're doing a trade show. You've spent a big chunk of $$$ on your booth. The centre-piece is a huge LED sign, ~30′ tall. Its setup w/ all kinds of live feed of info. Do you hook it to your twitter anytime someone mentions you? Think a bit. So Intel did that, and, well, a lot of people are unhappy about the recent ME issues. So a bit of a twitter war erupts, most of it not that complimentary of Intel. And its on their big screen. Hmm. Prob would have been better off w/ kittenwar.