One of my favourite 'brick and mortar' stores is Canada Computers. But you knew that 🙂 Its great, they have decent prices, decent selection, and don't hassle you with a lot of questions. Its for someone who knows what they are buying. They do allow ordering online, but why, they are right down the street.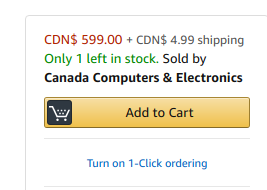 One of my favourite online stores is Amazon (and Aliexpress and Ebay, the troika). Imagine my surprise as I'm trying to sort out a small form-factor desktop to replace (RIP) the mini pc that couldn't AVX (the one has just been picked up to return to its maker in Shenzen). As I'm trying to sort out the ram config, I see this image to the right. Colour me shocked, I mean, there's no reason why not I suppose, but… really?
Oh yeah, happy 4th to all you US'rs. Hope the hotdogs and fireworks follow tradition, w/ only one exploding in the sky.