Leave work, head to garage. No bike. Bits of shredded steel instead. 3rd one in 3 years.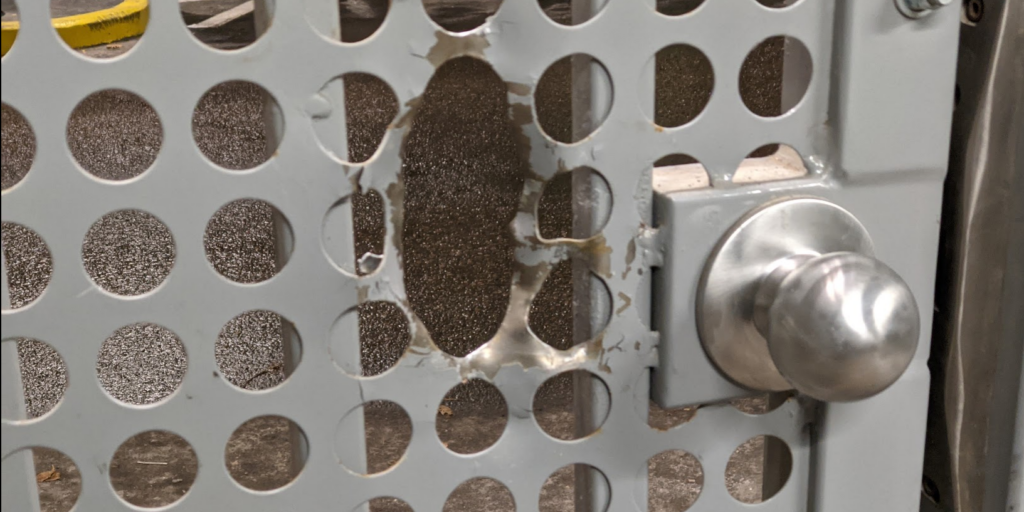 The Waterloo Regional Police have caller ID. The dispatcher was "I see you had a bike stolen last year, oh, and one other. I can save you some time if the details are the same." Huh.
Step one, to get in, they jammed a steel bar through one of the holes in the grates. Then wrenched on it, making this hole.
Step two, hand through the hole, open door.
Step 3, hacksaw.
Step 4. Gone.
What is one to do? I have the best lock you can get. Its in a locked cage. There's video surveillance. Its a reasonably well travelled area.
To make matters worse, this am i put a motion-sensor camera on the bike because people had been reaching through the bars and rifling through the front basket. Lost a few pairs of gloves, two air pumps, and had the headlight broken, wires ripped, etc. So I was hoping to catch them. Now that camera is also stolen.
I had just installed a pair of 45nrth cobrafist pogies, and the snow tires (pictured below). Its a pretty distinctive bike, so if you see it, call waterloo regional police.