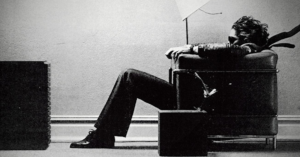 Got a pair of 80's or 90's floor-standing speakers? The ones you bought because of the iconic Maxell "Blown-Away Guy'? They no longer fit the decor of your living room? Don't despair, they make great desk speakers. Or so was my thinking.
Yesterday I did some long needed cleanup of the home office. Where does all the junk come from? As part of this I took a pair of QX900-F that dated back, well, to shortly after university. about 1.5m in height they are not discrete. O well, they'll fit in, right?
Hmm, they look a bit out of place. Hook them up to the Sonos, hook the Sonos line-in to a USB-DAC, boom, we got a pretty significant desktop speaker setting. YouTube was predictably a more immersive experience. But it only really got weird today when I did a couple hour long WebEx (yes, still somewhat of a thing 20+ years since I first used it). And that, my friends, was a weird experience. Its hard to say exactly. Those with good microphones where there. I mean really there. I mean almost too much there, it was like they were all around me, in my head.
Anyone else ever given this a try? I recommend it! If your speaker isn't taller than your desk, well, I dunno, you complete that saying.