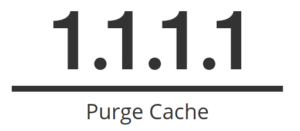 So when you are developing things that use 'ingress' on the cloud, you often end up cycling through new IP addresses to the same domain name.
Sometimes I put the name in /etc/hosts, then I can edit it. Sometimes I put it in domains.google.com, and use a low TTL. But I've found since switching to cloudflare (1.1.1.1) that the time to propagate can be long. There has to be a better way.
Well, there is. Check out the purge-cache service. Type the domain name, select the record type, boom, its gone.