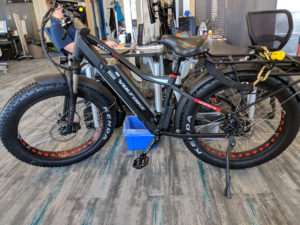 The saga continues. In the beginning there was the voltbike urban. It was not too heavy, folded up, had 20″ tires, and was very comfortable to ride (once I put in the suspension seat post and the cruiser saddle).
And then, suddenly, a wild bike thief arrives. And then we have none. So, I go out and spend $10 on bike #2. It was… somewhat average. OK, its not that awesome. It got the job done, but…. crustily.
Now we have received bike #3. Its large. Very large. Doesn't fit in the bike rack large. The tires are 4″ wide. That chain you see on top? That chain is 11kg (roughly the weight of bike #2), and it doesn't significantly alter the ride. The chain is 1.5cm diameter links, to put a scale to it (no banana, sorry).
How does it ride w/ those tires you ask? Its a bit like driving a tank with a mattress on top.. You are aware, intellectually, that there are bumps or curbs or whatever, but it kind of plows through them, stoically.
I tried riding it without the electric assist. Its not terrible, its ride-able. But, well, you wouldn't want to take it up a hill. It also not very subtle. You'd think with all the matte-black it would blend in. It doesn't.
As before, the thief who stole #1 is below. If you spot him, or know him, call WRPS, I can give you the case#. If you merely want to wish him bad karma, go ahead.
So this begs the question. We have bike#2. Its serviceable. It cost me $10. Should we smear the handles w/ crazy glue and bait-bike it somewhere?