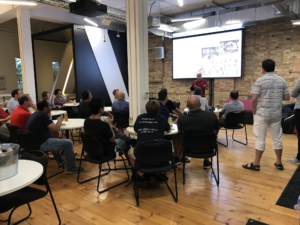 This week we had the inaugural 'Waterloo Technology Chautauqua'. After several hours explaining the finer parts of what Chautauqua means … No wait.
We agreed that ~monthly, starting a bit earlier (~7pm), w/ more time spent on interactive chat and less on present would be good.
Some topics were discussed, please feel free to vote here for the ones of that list you are interested in for the next one. Or, add a discussion topic here for a new topic area.
Thanks all that came out (~35-40 of the ~45 that RSVP). Let's continue learning together!