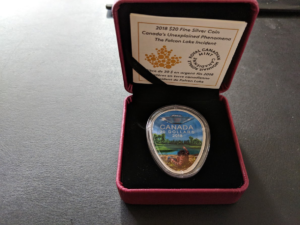 On May 20, 1967 @ Falcon Lake, a UFO came by. One of the many that came to visit for Canada's Centennial (another being the Shag Harbour one). And we've made a coin out of it! The Canadian mint wouldn't make a coin out of it if it were not true?
For you $, you get a 1oz silver coin, and a black-light flashlight (my first  Royal Canadian Mint flashlight!). And, well, view the movie. The coin lights up pretty spectacularly.
You can head on over to the mint and check it out, but, well, they are sold out. I got mine!