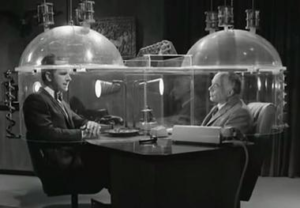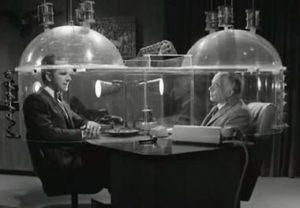 OK this was brought to my attention by a friend. I won't mention his name, his love of swiss-chalet sauce and avocado, or the large south-american country from which he hails. But he was certainly in the process of backing this kickstarter.
When I was a kid, one of the best (in syndication) shows was Get Smart. And it had this device, the cone of silence. Max and Chief would get in it and talk freely (rather than using the shoe-phone which chaos could certainly hear). Nifty.
Well, that science fiction has now come true. You can order your very own Hushme. And its certainly a problem you have. You're out and about. The phone rings. Its that $B deal you have been negotiating. Or maybe its the caterer calling to ask about what type of hotdogs to order for your wife's surprise birthday party. Either way, you don't want someone overhearing.
Why leave the room like a plebe when you can go shields-up and talk right there? Well, watch the video, and then take out your cheque book. $189 later and you can have one. But wait, you really need all your friends to have one too, so may was well get the friend-pack for $359 (which is two). Wait, you want *all* your friends? Oh, that's still the two-pack. Sorry about that. Don't worry, you won't look stupid wearing this to the club.
At any rate, watch the video below. At 40seconds in, it all becomes clear. This is nearly certainty the number one problem you didn't know you had.