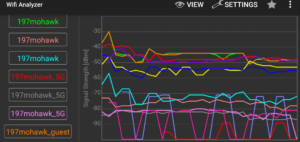 So i have a moderately complex home network. 5 access points lurk around, hard wired to each other. 3 of them speak 2.4+5, and 2 of them speak only 2.4GHz.
Saturday one of them came up for replacement. And since it covers a small area and is the main north-south gateway for my house, I chose to go for a device that has more RAM/CPU, and more average WiFi capabilities. And thus the rabbit hole of rebalancing occurs.
For those who don't know, the 5-GHz band has some limitations. First, in most regulatory domains (countries usually), there is a requirement that some of the frequencies do 'DFS' which is designed to detect weather radar systems (in case you are near an airport). I'm not, but I'm not allowed to disable DFS. Also, each channel as a different peak power allowed, as well as a different width. You can read about WiFi channels for you country here, and i've reproduced the first few columns below.
So as you can see, you want to use channel 42, 50, 155 from a width standpoint. Channel 155 allows 30dBm of power whereas 42 only allows 17, and 50 allows 24. But, that DFS column, you really want to avoid this if you can. It  turns out that false positives happen here, and, when they do, your router switches to another frequency and drops power.
So you now have a choice. Either not use the VHT80 mode and skip the DFS channels. Or use the VHT80 mode and have overlap (interference). Or use VHT80 and DFS and hope they don't move. Well, I tried that latter, and now my WiFi analyzer is telling me (as is my log file) that weather radar was detected. Boo. It only looks like a lot of channels. Basically there are only 2 non-DFS blocks, and only one of these is high power. And, each uses the whole block if you use VHT80.
Since I'm seeing false positives on the DFS detection, my 3rd 5GHz band is jumping ship and moving (and jumping on top of one of the other 2 non DFS bands which i've used the whole width on). [side note, you can see what your router wants to do by running 'iw reg get' on it).
The 2.4GHz band I managed more simply. There are only 3 non-overlapping channels (1,6,11) for 2.4GHz. I have 5 AP (plus 1 that is there for my alarm system I guess, plus 3 from my neighbours that broadcast @ high power). This gives 9 things vieing for the 2.4GHz 3 channel. So i've tuned my power down, directed the antenna a bit, and well, not a lot uses the 2.4GHz band for clients, just some of the devices like thermostats, older chromecasts, etc, so I don't care too much.
So, anyone care to comment on how they solved this dilemma? Is ignorance bliss and I should just ignore? I can kind of see now why the hackers disable DFS and power limitations, but that would be wrong.
| | | | | | |
| --- | --- | --- | --- | --- | --- |
| Channel | Freq | Freq-Range | Bandwidth | USA | Canada |
| 36 | 5180 | 5170-5190 | 20 | Yes | Indoors |
| 38 | 5190 | 5170-5210 | 40 | Yes | Indoors |
| 40 | 5200 | 5190-5210 | 20 | Yes | Indoors |
| 42 | 5210 | 5170-5250 | 80 | Yes | Indoors |
| 44 | 5220 | 5210-5230 | 20 | Yes | Indoors |
| 46 | 5230 | 5210-5250 | 40 | Yes | Indoors |
| 48 | 5240 | 5230-5250 | 20 | Yes | Indoors |
| 50 | 5250 | 5170-5330 | 160 | DFS | DFS |
| 52 | 5260 | 5250-5270 | 20 | DFS | DFS |
| 54 | 5270 | 5250-5290 | 40 | DFS | DFS |
| 56 | 5280 | 5270-5290 | 20 | DFS | DFS |
| 58 | 5290 | 5250-5330 | 80 | DFS | DFS |
| 60 | 5300 | 5290-5310 | 20 | DFS | DFS |
| 62 | 5310 | 5290-5330 | 40 | DFS | DFS |
| 64 | 5320 | 5310-5330 | 20 | DFS | DFS |
| 102 | 5510 | 5490-5530 | 40 | DFS | DFS |
| 104 | 5520 | 5510-5530 | 20 | DFS | DFS |
| 106 | 5530 | 5490-5570 | 80 | DFS | DFS |
| 108 | 5540 | 5530-5550 | 20 | DFS | DFS |
| 110 | 5550 | 5530-5570 | 40 | DFS | DFS |
| 112 | 5560 | 5550-5570 | 20 | DFS | DFS |
| 114 | 5570 | 5490-5650 | 160 | DFS | No |
| 116 | 5580 | 5570-5590 | 20 | DFS | DFS |
| 118 | 5590 | 5570-5610 | 40 | DFS | No |
| 120 | 5600 | 5590-5610 | 20 | DFS | No |
| 122 | 5610 | 5570-5650 | 80 | DFS | No |
| 124 | 5620 | 5610-5630 | 20 | DFS | No |
| 126 | 5630 | 5610-5650 | 40 | DFS | No |
| 128 | 5640 | 5630-5650 | 20 | DFS | No |
| 132 | 5660 | 5650-5670 | 20 | DFS | DFS |
| 134 | 5670 | 5650-5690 | 40 | DFS | DFS |
| 136 | 5680 | 5670-5690 | 20 | DFS | DFS |
| 138 | 5690 | 5650-5730 | 80 | DFS | DFS |
| 140 | 5700 | 5690-5710 | 20 | DFS | DFS |
| 142 | 5710 | 5690-5730 | 40 | DFS | DFS |
| 144 | 5720 | 5710-5730 | 20 | DFS | DFS |
| 149 | 5745 | 5735-5755 | 20 | Yes | Yes |
| 151 | 5755 | 5735-5775 | 40 | Yes | Yes |
| 153 | 5765 | 5755-5775 | 20 | Yes | Yes |
| 155 | 5775 | 5735-5815 | 80 | Yes | Yes |
| 157 | 5785 | 5775-5795 | 20 | Yes | Yes |
| 159 | 5795 | 5775-5815 | 40 | Yes | Yes |
| 161 | 5805 | 5795-5815 | 20 | Yes | Yes |
| 165 | 5825 | 5815-5835 | 20 | Yes | Yes |